We asked ourselves: Why is it so difficult to remove make-up?
To remove mascara, you have to rub hard
But even then, doesn't everything always work out? It's particularly annoying when you're tired and have been wanting to sleep for a long time. 😔
The next morning, when you look in the mirror, you regularly get a fright because you think you've turned into a cute panda bear overnight. It would be nice. No, the "panda eyes" are from the leftover mascara that gave you the dark circles under your eyes.
Turning back into a human requires at least one minute of being late for work per day and 365 cotton swabs per year.
☝️ That's why we have developed a gentle cleaning method that does not require cotton swab waste. More on that later in this text.
Is your skin dry and tight after cleaning?
So you have laboriously tried to get rid of mascara and co. Thanks for that? The skin around the eyes becomes red and wrinkled. The whole face often reacts irritated, the skin feels tight and dry. 😔
You have to stop the facial burn immediately with a care product, otherwise it's unbearable. Actually, you suspect that your skin isn't tight and dry because it's one of her hobbies to annoy you, but that it could be because of the wrong product .
So you test make-up remover wipes, washing gel and micellar water all over the place. What remains? The urgent need to moisturize your face after cleansing, no matter what product you use.
But shouldn't facial cleansing also care?
Wouldn't you wish you could do without all the rubbing and panda eyes? Wouldn't it be great if you had a makeup remover that would also nourish your skin instead of drying it out?
Wouldn't you like to have a method that's good for you, that you look forward to like hot, fragrant popcorn and woolen socks? The good thing comes straight away: the solution is sooo simple! It works best with a mixture of vegetable oils. Huh what? Yes, exactly!
Make-up removal with oil - is that possible?
Admittedly, at first glance this method seems rather questionable. But the explanation is very simple: The Oil Cleansing Method is based on the oil-removes-oil principle: Make-up and mascara consist of a base that can be easily removed with oil.
The advantage of this make-up removal method is that your skin does not come into contact with drying emulsifiers and washing-active substances and you do not have to expect a dried-out feeling afterwards, but your skin feels soft and cared for.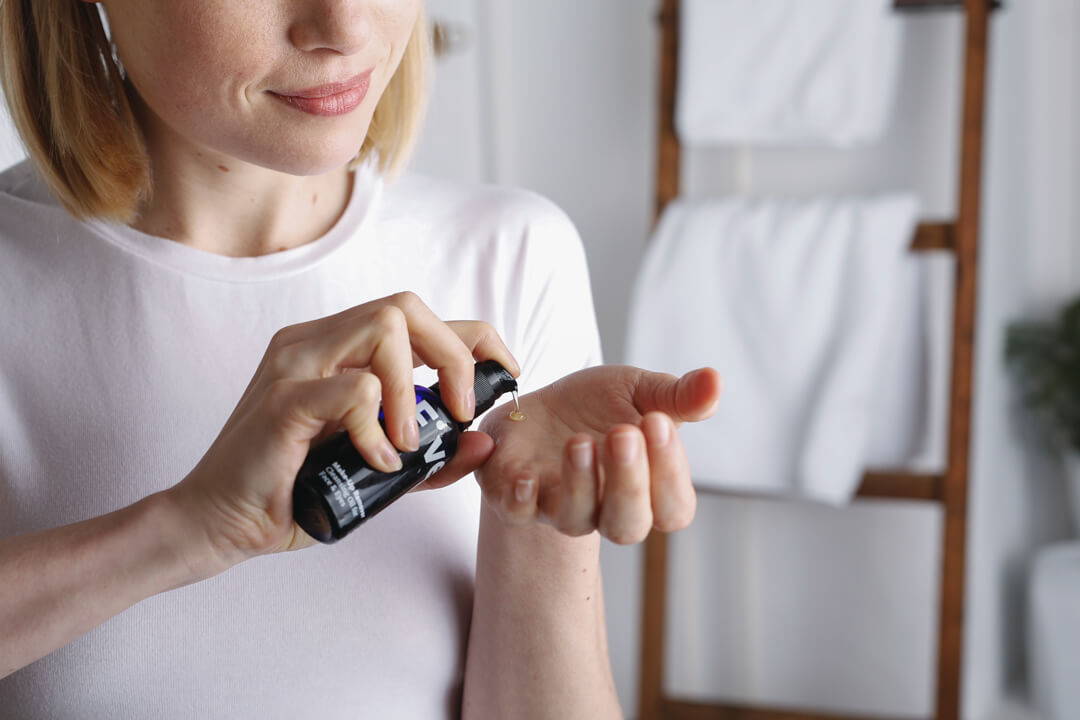 Our natural make-up remover oil - developed for you
No more panda eyes. Gentle and at the same time thorough removal of make-up, waterproof mascara and city dirt. The vegan make-up remover oil with only five ingredients consists of a mixture of organic almond, organic jojoba, organic apricot kernel oil and essential organic neroli oil. Vitamin E protects against free radicals.
The FIVE make-up remover is 100% vegan and natural and 99.8% organic. It comes in a 50 ml glass bottle.
98% of our customers would recommend the FIVE make-up remover to their friends.
Lydia K
Excellent
Removes make-up very well, cares for the skin and leaves the skin feeling soft. I'm falling out less lashes, probably because I don't have to rub as much to get the mascara off. ;)
★★★★★
Carmen R
Best cleaning I've ever tried
The Five make-up remover totally convinces me, I use 2 drops spread it in my hand and do a light massage, then I take all the dirt off the day with a hot washcloth. You have a well-groomed, gentle feeling afterwards, simply brilliant. I can only say try it.
★★★★★
98% of our customers would recommend the FIVE make-up remover to their friends.
maren m
Super positively surprised
Really great product, a few drops are really enough, which makes the product very economical. Eye make-up can also be removed very easily.
★★★★★
Ute F
Really great
I have been using the Cleansing Oil for several months and I am very satisfied. I thought that I would have to apply the oil to my face after cleaning because my skin is very dry, but that is not necessary, the skin feels clean and cared for and smells very pleasant and subtle.
Great, the oil does not contain any strange, undefinable chemicals.
★★★★★
98% of our customers would recommend the FIVE make-up remover to their friends.
Carina
Cleaning becomes a wellness experience
great product I was a bit skeptical about cleaning my face with oil at first, but it's just great. I'm always looking forward to it! Make-up and mascara are easy to wipe off and your skin feels fresh and clean afterwards.

★★★★★
Catherine K
What I was looking for
I am so excited about the oil. In the evening I put 3 squirts on the palms of my hands and spread it over my dry face. Even rubbing it in is a blessing. Then I take a washcloth, hold it under hot water and then lie on the bed for about 5 minutes with the washcloth on my face. Until it cools down. The 5 minutes do me a lot of good and my facial skin can relax and open up and the oil does its job. Then I just dab my face with the washcloth. No rubbing, no washing, simple, fast and effective. My skin is soft afterwards, lightly scented and looks rosy and healthy. I love

★★★★★
☝️ Say no to disposable cotton pads. The FIVE make-up remover works best with the small towel. Please do not use disposable cotton pads. These not only clean worse, but are also an unnecessary burden on the environment.